23 Ways to Market Your Business Online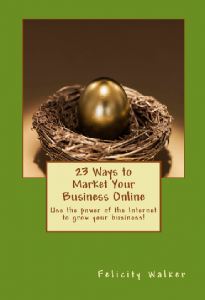 As a business owner, particularly as the owner of a smaller, local business, it's very easy to think that all that online nonsense really has nothing to do with you. But the reality is that in the last 10 years or so, the internet has gone from being something of a techie fad to an indispensable part of most people's lives. Do you want to know something? Search online. Do you want to find a local business? Search online.
Add the explosive growth of Smartphones like the iPhone and Androids, and now people don't even need to be in front of their computer to search for information – they can be anywhere. The trend of searching online for information is only going to grow more rapidly. What all of this means for local business is that if you're not visible to both your existing and potential customers in the places they're searching for information about you, you're in big trouble. They're going to find your competition online instead. And you'll get left behind.
In this book, we're going to look at some important things you need to be aware of when marketing on the web. As well, we'll check out some of the ways to reach new customers, plus get your existing customers to spend more money with you – and do it more often! Learn about : – your website and how to leverage off it – what social media is and why you need to be part of it – how to get your website noticed plus ideas for getting free advertising online, communicating better with existing customers and lots of more of great ideas for marketing your business.
Uncatagorized